ABOUT
The Belfast Coastal Reserve covers an area that lies on the coastal fringe between the outskirts to the East of Port Fairy and the western boundary of the City of Warrnambool, in the state of Victoria in Australia.
Belfast Coastal Reserve consists of areas of large natural dunes that contain significant areas of recovering coastal heath and other native vegetation as well as marram grass. The dunes are backed by intermittent and permanent swamps and wetlands. The beaches range from high energy open ocean, that can be subjected to large wave and high tide forces, to those that are protected by outer reefs.
Belfast Coastal Reserve provides a habitat for a range of native flora and fauna including water and migratory birds that also include endangered species like the Orange Bellied Parrot and Hooded Plover. Numerous migratory birds frequent these beaches. Swamp Wallabies and Echidnas can be seen around the dunes and at times dolphins and whales can be observed in the ocean from the vantage points. 
The area also holds cultural and spiritual significance for the Traditional Custodians of the area. One of the largest shell middens in the Southern half of Australia lies within the reserve, just to the West of the main beach. This was an important place of habitation for the Moonwer Gundidj, a local clan of the greater Peek Whurrong coastal tribe. Burial sites also lie within the Reserve.
PLANTS
Map Data Declaration:
The maps created for this publication contain the following DSE data sets, which have been licensed for reproduction.
Map 1, Locality Map: HYDRO100, HYDRO250, LOCN500, PLMMT100POLY, ROAD100, ROAD250, VIC100, VicMap Property (PARCEL-MP)
Map 2, Bioregions of the South West: BIOREG250, HYDRO100, LOCN500, HYDRO250, ROAD100, ROAD250
Map 3, Ecological Vegetation Classes at the time of European Settlement (pre-1750): EVC1750-CMP
Map 4, Remnant Ecological Vegetation Classes: EVC-CMP100
CAMPAIGNS
During the Summer of 2015/16 commercial racehorse training on an industrial scale suddenly arrived on Killarney beach. This was due to a range of factors including poor land management by authorities and lack of enforceable regulations. 
Killarney beach became a 'flashpoint' for the Belfast Coastal; Action Group (BCRAG) to form and begin a campaign to remove and prohibit horse training within the Reserve and protect its natural and cultural values. It soon became apparent that a similar situation was occurring at Levys beach and in the dunes around 'Hoon Hill', at the Eastern end of the Reserve under management of Warrnambool City Council. 
Small scale local trainers were also accessing the beach at Rutledge Cutting, although numbers were beginning to increase in this area as well. 
As the campaign evolved it became apparent via documentation obtained that, Warrnambool Racing Club planned to rapidly expand and increase the number of horses and beaches available for training. This included the beaches mentioned above, as well as 'Golfies' to Mills Reef at the Western end of the Reserve and maintaining access to Lady Bay in Warrnambool. 
This plan would have opened up around twenty five percent of the Reserves beaches, allowing approximately 250 horses per day, for commercial horse training. 
The following are extracts from Moyne Shire Officers Report, describing activities and horse and vehicle numbers on Killarney beach during the Summer of 2015/16. 
The full report and other associated documents and media coverage are available as a link in the attached 'Timeline'. 
"The main area of contention is the beach including the sand above the high water mark between the Boat Ramp off Basin Track and the Killarney Caravan Park. Activities include riding horses in the soft loose sand above the high water mark, riding horses at the water's edge and in the water. The horse training operation includes the use of the boat ramp car park off Basin track and the main beach car park on Mahoney's Road for unloading, loading and saddling of horses." 
"Reports and officer observations confirm up to 20 horses are working on the beach at any one time with training occurring on the beach on daily basis, including weekends, from sunrise until about 10.30am. However, a resident reported racehorses on the beach at about 4pm on 10 February 2016." 
"Council officers have observed horse trucks, horse floats and vehicles blocking access to the boat ramp and making access to the car parking areas difficult with up to 12 horse trucks and floats using all of the available car parking. Horses then access the beach from the boat ramp causing the sand to become loose and difficult to drive on when launching and retrieving a boat. Horses are also using pedestrian access tracks to enter and leave the beach, increasing the risk of a serious injury arising from a horse versus pedestrian incident." 
The campaign continues to this day, although there has been no commercial horse training in the Levys beach/Hoon Hill area since September 2016 due to concerns from Aboriginal Victoria and staunch opposition from Traditional Owners and local elders in regard to real and potential damage to cultural sites and beliefs. 
Warrnambool City Councillors have recently voiced their opposition to allowing horse training in this area and have endorsed a 'Wildcoast Precinct Master Plan' that aims to protect and enhance the natural and cultural values of the area. 
Some small scale, local and hobby trainers have been licensed to operate at Rutledge Cutting and Killarney beach. These licences are 'sunsetted' and have strict controls relating to numbers, holiday periods and Hooded Plover breeding times.
The Belfast Coastal Reserve Action Group (BCRAG) has also been actively co-ordinating revegetation and weed removal projects in the BCR. 
BCRAG currently receives the support and assistance of several groups including:
Victorian National Parks Association, 
Birdlife Australia, 
Gunditj Mirring Traditional Owners, 
Environmental Justice Australia, 
Victorian Coastal Council 
and the Bob Brown Foundation 
together with other community groups.
INVASIVE WEEDS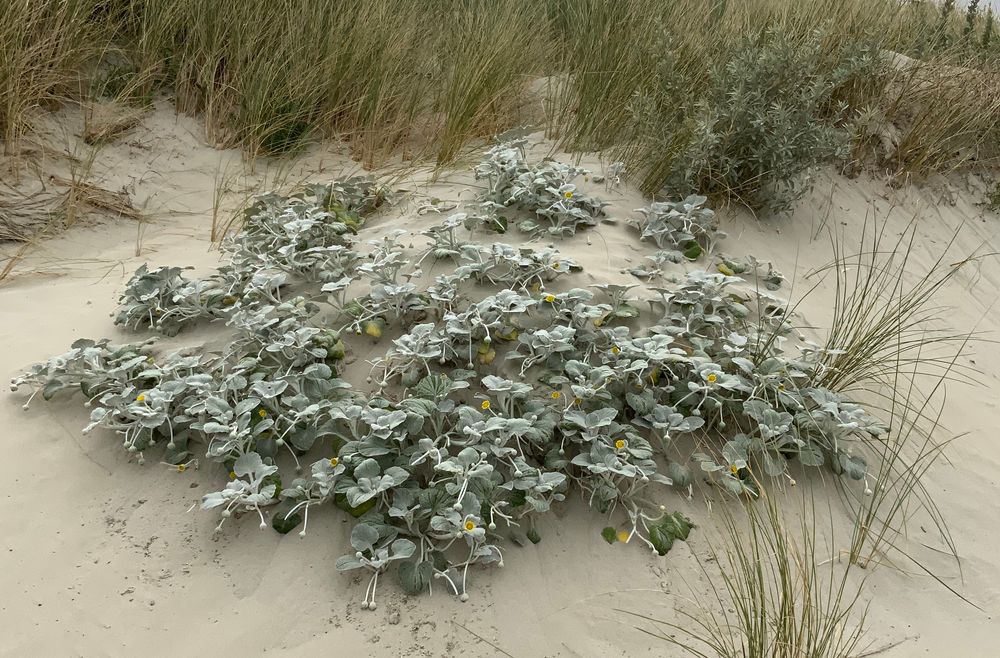 Artoctheca populifolia, also know  as Cape Beach Daisy (CBD), is a highly invasive environmental weed which was introduced from South Africa into Western Australia to stabilise coastal dunes.  
In recent years, CBD has spread westwards to Victoria and is a significant threat to the south west coast and beyond. 
It out-competes native vegetation such as native spinifex, changes the dune topography making it steeper and more prone to erosion, impacts river estuaries with sand build-up, threatens nesting shorebird habitat - particularly Hooded Plovers and affects the ambience and access for beach goers.  It is also a potential threat to basalt plains and grasslands. 
Belfast Coastal Reserve Action Group has been active in revegetation of the Belfast Coastal Reserve including extensive plantings of native spinifex – this work by volunteers will all be compromised unless infestations of CBD are controlled into the future. 
BCRAG have developed the Innovative Cape Beach Daisy Awareness, Education and Removal PROJECT
The aims of this project are to: 
Raise awareness and educate the communities around the Belfast Coast Reserve (BCR) in South West Victoria with regard to the impacts of invasive CBD 
Create a video and develop a brochure of information for appropriate removal and safe disposal of CBD 
Provide a model for effective and long term control of CBD along Victorian beaches 
Engage volunteers to take part in working groups to remove CBD infestations 
Ensure effective and safe removal of CBD and appropriate disposal to prevent further spread 
Engage and educate landholders and other community groups 
Create a buffer zone west of Port Fairy to keep the CBD out of BCR 
Develop an ongoing operations plan to monitor and control future outbreaks in BCR by volunteer
NB: ALL MESSAGES WILL BE MODERATED BEFORE POSTING